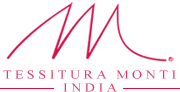 Italian heritage runs strong in Monti India. Part of Gruppo Tessile Monti, Italy, it is a legacy that is carried on from the world's leading producer of the highest yarn-dyed cotton shirting fabric. Made from the purest Giza cotton, intricate weaves and patterns bring out the Monti signature style with perfection. The world's leading brands prefer our fabric for the finesse in craftsmanship and the care given to quality that is evident with the Monti experience.
Set up in the industrial town of Kolhapur in the Indian state of Maharashtra, the state-of-the-art factory comprises of 200 looms working to weave the best Monti fabrics. Capable of warping, sizing and weaving, the plant employs over 900 employees within a sprawling 20, 000 square metre area, with an installed capacity of 10 million metres per year and a finishing capacity of 9.0 million metres per year. With a quality control process, the fabrics undergo a 3 phase inspection before being shipped.
Built to cater to local as well as global demand, the plant stays true to the quality and class that can be experienced only with Monti.